Here is brief history of the VV MVD(Vnutrenniye Voiska Ministerstva Vnutrennikh Del) division Mosova portrays, ODON:
Right Sleeve:
Left Sleeve: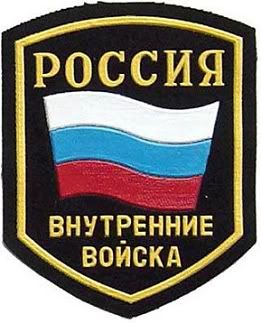 ODON-Separate Special Purpose Division
The unit was formed as a Special Task unit in 1924. In August of 1926, it was named after Felix Dzerzhinsky, the Bolshevik secret police chief. At that time it was merged with the Tula, Vyatka and Yaroslavl Divisions of the OGPU. The division was actively used in fighting banditry in the 1930s, and fought in the 1939 war against Finland. During the Great Patriotic War, various elements the Dzerzhinsky Division were in patrol service in Moscow, guarded governmental communications and fought on Western and Volkhov fronts. In September 1991 it was announced that the new Russian National Guard would be formed mainly from the elite Dzerzhinsky division, the KGB and the MVD Internal Troops. In its first stage the RSFSR National Guard was planned to consist of 8 brigades with 10 thousand men each. In October 1991 RSFSR Vice-President Aleksandr Rutskoi said that the size of the RSFSR National Guard would not exceed 3,000 in the first year. In the second year the number of guardsmen would rise to 10,000, and as the budget deficit declined to 66,000. Rutskoi said the first training center would be created on the base of the Dzerzhinsky division in Balashikha. Yeltsin relied heavily on Interior Ministry troops of the Dzerzhinsky Division during the confrontations that followed the September 1993 coup. During the October 1993 coup attempt, the only forces who really saved the Ostankino TV-Center were special forces of Dzerzhinsky division, which were trained to fight against crowds in the streets. The Dzerzhinsky Division was active in the Chechen war. Skeptics noted that retaining Dzerzhinsky's name for a Russian division would be akin to modern Germany calling an elite divisions the "Heydrich division," after the former SS leader. The Separate Operational Task Division of Interior Troops, or ODON, is the former Dzerzhinsky Division of the KGB. The Russian president on 25 January 1999 appointed Major-General Nikolai Turapin as ODON commander. Russian Interior Minister Sergei Stepashin on 15 February 1999 introduced the new commander.
ODON Division in Action: